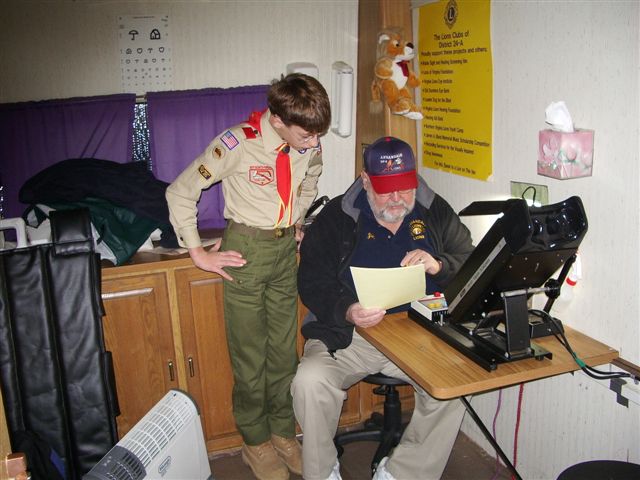 Lion Jim receives instruction in Sight and Hearing Screening Van
Lions?
Lions are men and women who give their time for humanitarian purposes in their local and larger communities. By conducting service projects and raising funds, Lions help those in need.
The Lions Motto is "We Serve." Lions was founded in 1917 in the city of Chicago. Since that time Lions Clubs International has become the world's largest service organization with over 1.3 million members worldwide.
Helen Keller gave a talk at the 1925 Lions International Convention where she challenged Lions to become "knights of the blind in the crusade against darkness." As a result, Lions have made service to the blind and the visually impaired their most significant activity, an activity that has led to the establishment of "Sight First"-- a global blindness prevention and eradication program.
Lions also participate in service activities emphasizing research into the causes and treatment of sight and hearing loss, diabetics education, drug awareness, and education programs. Lions work with the physically and mentally impaired, support environmental issues, community welfare, international understanding, and youth programs.
Mission Statement for Lions International. Lions International Objects and Ethics
Who Are the Annandale Lions?
The Lions Club of Annandale is one of the oldest service organizations in Northern Virginia. Our service area includes the community of Annandale, Virginia which is located in north-eastern Fairfax County roughly 10 miles from our Nation's Capital, Washington D.C.. The Club is a diverse group of men and women who serve their community. The Club is proud of its past half century of community service, and looks forward to a bright future in the coming years.
The Club's record of achievement would not have been possible without efforts of the Annandale Lions that have served in preceding years and without the support of the local community. The Annandale Lions typify their motto, "We Serve," and are grateful for the privilege to serve. The Club celebrated its Golden Anniversary (50 years of service) on Saturday, April 25, 1998.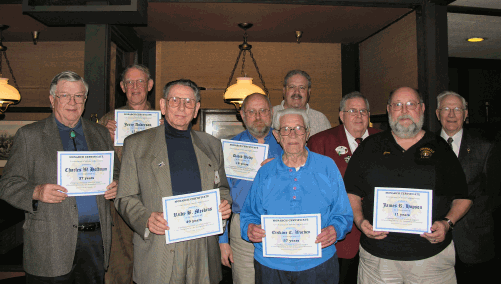 DG Doug Cross presented Monarch certificates to Annandale Lions whose combined service to the community totals 560 years!! Shown are Bill Hoffman, Jerry Anderson, Rudy Meekins, Dave Welty, Charter Member Erk Worden, Sid Jaffe, DG Cross, Jim Hopson, and Bill Shattuck. Missing from the photo are Lonnie Tuthill, Edgar Beery, John Landers, Merlin McLaughlin, Ralph Buckley, Pete Bianchi, Gene Boucher, and Art Fearing
Information on the Lions Organization or becoming a member
If you would like more information on Lions, or if you are interested in becoming a Lion, please click here. Or, contact us.
Annandale Lions Club Celebrates 60 Years of Service
Congressional Record Commemorates the Event!